Garage Door Cable Repair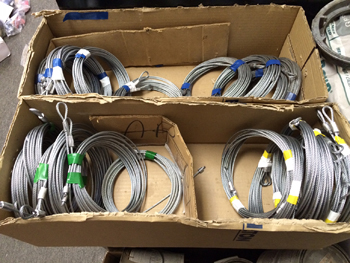 Garage door cables are fixed only when they are not broken. In a different case, they must be replaced. Cables usually need repairs when they are loose and come off the drum or the extension spring pulley system. Since they are vital parts of the garage door spring system, they are installed in a different way depending on the spring. Extension springs are connected with a pulley through a pulley fork, and the cable runs through the pulley. In the case of the torsion spring, the cable is wrapped around a drum.
When One Cable is Loose, the Door Will Open Unevenly
When the cable is loose, it must be tightened. It actually means that the springs have lost some of their tension. The cable will be fixed once the spring tension is released and then reloaded. This is also the way to put cables back to drums or pulleys. Keep in mind that these tasks are of high risk and must be carried out by professional contractors.